UC-II, a new way to help with your pets' joints
UC-II is a safe, all natural product that can truly make a difference in pets' that have joint pain and inflammation! It works in a completely different way then other joint supplements.
UC-II is a breakthrough formula for dogs and cats! UC-II works differently than traditional supplements with glucosamine and chondroitin and works by targeting your pet's immune system.
Here is how it works:
The unique ingredient UC-II works with your pets' immune system to interrupt the cycle of inflammation. In dogs and cats with OA, damaged collagen fibers are released into the synovial fluid that fills the joint space. These fibers trigger your dog's immune system, causing the painful inflammatory cascade responsible for your dog's symptoms.
UC-II works to retrain your dog's immune response. With the ingestion of UC-II, the dog's immune system learns to tolerate the damaged collagen and becomes less reactive to the collagen fibers released by his/her own body. Through this process of oral toleration, inflammation is reduced, which can alleviate your dog's symptoms, helping him or her get back to doing the things they love.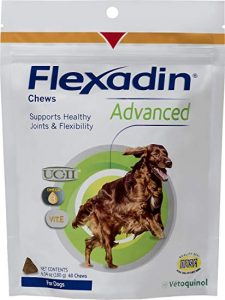 Information from:
https://www.akc.org/expert-advice/health/support-joint-health-by-targeting-the-immune-system/