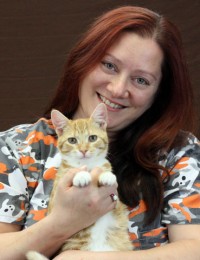 My name is Beki and I've been a technician here at CCVC since 2011.
I have an 15 year old daughter named Reilley and just got married in 2017!  We have 8 furry family members – 4 cats;  Tidbit who I bottle raised from a baby,  a 3-legged cat named Minus , Lucy and Oscar whom we adopted from CCVC. We also have a  rabbit, a long hair Chihuahua named Bonnie born in 2004 that I rescued from the Carroll County Humane Society, a Jack Russell / Yorkie mix named Molly who was born in February of 2011, a 2016 rescue mixed breed named Finn, and a 2016 beagle mix we rescued named Momma.
I have been working with animals since I was 14. I love working here at CCVC because the staff is like family. I look forward to meeting new clients and getting to know their furry babies!