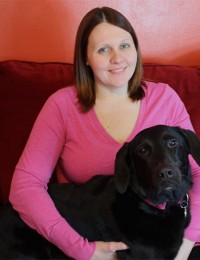 Education: Vet Tech Institute in Pittsburgh
Hi, my name is Kathryn. I started out at CCVC as an intern in January of 2013, and then was hired in April 2013. I went to school at the Vet Tech Institute in Pittsburgh, PA where I graduated and I am now a certified veterinary technician. I am also mother to Waylon who was born in 2015 and Chase who was born in 2016.
I have a Black Lab / Basset Hound mix named Belle who is my partner in crime. Some people call me crazy for having so many cats – four tortie (tortoiseshell) cats named Maddie, Missy, Miranda and Mila, a Siamese mix named Maverick, but I love them all and they keep me on my toes.
I am happy to be part of the CCVC family and look forward to getting to know you and your pets.