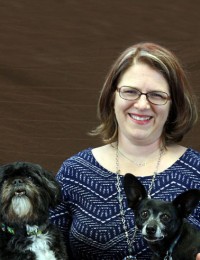 Education: Tufts School of Veterinary Medicine
After 5 years of exclusively working in emergency and shelter medicine, I am transitioning back to primary care practice. I am happy to call Carroll County Vet my new home, where pets are family and family is first. I graduated from Tufts School of Veterinary Medicine in 2005 and practiced both in primary care and emergency medicine in New Hampshire prior to moving to Maryland in 2010.
I continue to work as a high volume spay and neuter surgeon at a local shelter when I can. My professional interests are nutrition and preventative medicine, herbal and holistic medicine, soft tissue surgery, trauma (cannot completely get away from the ER side of veterinary medicine) and endocrine disease.
I live with my daughter and assorted rescued critters. When not working, I can usually be found at the gym (powerlifting, Olympic weightlifting and crossfit), concocting new essential oil salves, tinkering in my garden or knitting when I can sit still long enough. I hope to add beekeeping to the list in the near future.