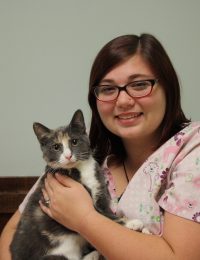 Hi there, my name is Gabby. Most of my co-workers call me Giggles since I tend to always be happy and laughing. I just started working at CCVC in the summer of 2017 as a technician.
I have one cat named Camio whom I adopted from CCVC as a kitten in 2017.
I really enjoy meeting new clients and patients and look forward to seeing everyone as they come in the office.