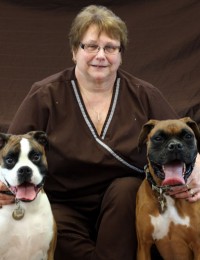 My name is Andie. I have worked for the Carroll County Vet Clinic since April of 2000 and I continue to love coming to work every day. No two days are ever the same. I answer the phones and check you and your pets in and out. I will also give you a call the day after your appointment to make sure your pet did well and answer any questions you might have and set up any appointments if needed.
I love all breeds of dogs and cats but my heart belongs to the BOXER. All the boxers in the practice know me and give me kisses and nubby wags! We try to know your family members and your pets and treat them like our own.
I have been married to my husband Walter since 2003. I have two grown daughters Dawn and Carrie. They have blessed me with seven grandchildren: Kendall, Kennedy, Kameron, Haylee, Garrison, Landon and Brynlee. Two of my granddaughters have given me four great-grandchildren: Kayden, Kassidy, Kaiser and Manuel. My family at home also includes Stormy – a red brindle boxer, Governor Weatherbe – a fawn boxer,  Captain Jack – a flashy red brindle and Calypso – brindle boxer. Emmitt is our newest boxer addition and keeps me on my toes. I love spending time with my grandkids and my dogs. I am sure I will be seeing or talking to you soon.